0.0.18 Development Log #1
---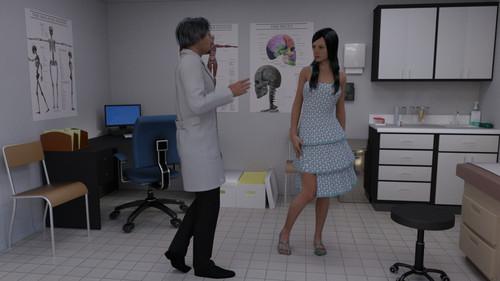 Development on General Practitioner goes on smoothly.
Today I'm going to introduce you the new features of 0.0.18 release, which will be officially announced in a few days.
A new interview with Dr. Kirkman has been added when starting a game. The game will ask you to answer some questions related to real issues that GP's worldwide have to deal with. According to your answers the game will boost or decrease the doctor's stats when starting a new game. This reflects the Doctor's life before he joined St. Mary's and gives some background to the character as well.
You can completely skip this interview and start with the standard stats of course.
You will notice that starting money also increased to 5000 (from 50). This will aid you in an easier management of the clinic in the early game and also aims to balance the difficulty of the game.
Another addition you might like is the introduction of "Sexual Dates" with your (scripted) patients! Starting with Clara you will access a "mini-romance" date similar to the ones you make with major characters. If you play the exam and earn a "GOOD" standing with the patient you may have him/her meet you and start a conversation. Flirt with them, harass them or be kind and according to their character they might end in bed with you.
But be aware that every choice has consequences, even those involving affairs with your patients. Also, remember to stay fit and take care of yourself, because some people might not like an unfit or ugly doctor in the first place. Unlocking those scenes will show you new sexual interactions and events in the game.
Please send me your feedback of the game and its new features, it's of outmost importance that YOU, the community after General Practitioner, have a say in this!
Be safe and healthy,