0.0.17 update Changelog Preview
---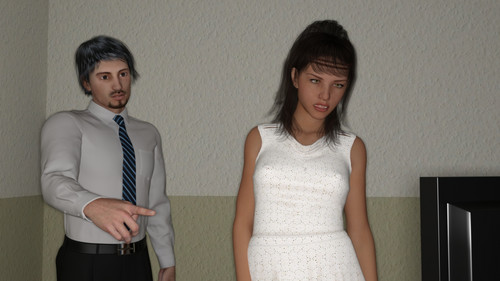 Hi guys. This is the partial changelog of the upcoming 0.0.17 update, available for 20$ patrons on August 31st. Enjoy the many things I introduced:

GENERAL PRACTITIONER 0.0.17 ALPHA RELEASE - "Our Clinic, My Family"
GENERAL:
This update is COMPATIBLE with saved games from 0.0.11 public release and later.
* Bug fixing
- Fixed an issue in "Stay Fit" chapter that made the game not recognize if Erika is living with the player
- Updated Kiko's current 'end of available content' in-game tag
- Fixed "Shady Business" chapter from starting over more than once when you choose purity/girlfriend path
- Fixed Clara's exam "Medical Record" link which was crashing the game
* Added "Chapters introduction" throughout the game
* In-game Gallery is now available. Gallery implementation is not complete and will continue on future updates.
RANDOM EXAMS:
* Fixed a condition where only a few lines were used to reply to question #1 instead of every available ones
* Corrected the use of the "His" pronoun instead of "Him" in male's random exams that was due to a wrong find/replace
* Fixed patients' behavior to be consistent with their diseases in random examinations
* Height exam has been removed
* Revised how random examinations ask about the diagnosis. Now the correct one won't be on the same "spot" in the choice screen and will change every time the exam is played. That way the player won't be able to simply "guess the right position" of the correct answer but will have to actually perform the exam.
* Random exams coding has been significantly simplified. This is merely a code change and won't affect gameplay.
* "Exam purpose" dialogue has been introduced. This dialogue will play before the examination and explains why the patient came to the clinic in the first place.
- More than 40 different "motivations" for requesting a medical exam have been included. Even those are important to correctly assess the patient's ailment.
* Improved the quality of the image for "Dating" in the daily chooser
GAMEPLAY:
* Energy stat is now implemented in game. Doing activities will cost you energy as it follows:
- Work at the clinic/hospital: 35 energy
- Go to the beach: 15 energy
- Go to Ray's: 10 energy
- Go to the Gym/Pool: 10 energy first time, 40 energy when you train
- Miranda's L'Antica Gelateria: 5 energy
- Cinema: 15 energy
- Study: 15 energy
* You can refill your energy via these activities:
- Bowling (5 energy)
- SPA (20 energy)
- Massage Parlor (+5/+20 energy)
- Relax at home (+10 energy)
- Choosing Vanilla and Chocolate icecream at Miranda's (+5 energy)
- By technicians/administrative personnel work (+5/+10 energy)
- Sleeping (+75 energy)
* Bowling energy gain has been reduced to 5 (from 10)
* SPA energy gain has been reduced to 20 (from 25)
* Study energy loss has been increased to 15 (from 10)
* Sleep energy gain has been increased to 75 (from 70)
* Energy indication has been added to the User Interface
* Christina is now a romanceable character in the game
- Dating system has been updated to include Christina
- New sex scenes with Christina added in the game
- 10 "Ray's bar" conversations have been added with Christina
- 5 "Dating" conversations have been added with Christina
* Sex scenes with Erika will now play after a date if your relationship level is high enough
EXAMINATIONS:
* Random Exams: TEENAGERS are available. Teenagers have about 10 more ailments than children as they share many with them. If a teenager patient is available the game will have you choose to play her exam or to have your staff manage it. Teenagers come with their own set of questions, situations and pictures. As they are underage please remember that no nudity is involved in any of their exam.
* NEW EXAM AVAILABLE (#43): Summer. To start this exam you need to go to the clinic after October 8th
* NEW EXAM AVAILABLE (#44): Alexandra. To start this exam you need to go to the hospital after October 12th
STORY:
* "Our Clinic, My Family" chapter is available. To play it you have to choose "Ask [relative] for help" when you need to examine the Medical Board's computer. This happens after Erika's dialogue introduced in 0.0.16 "Our Clinic, My Legacy"
OTHER:
* The game will end on October 31st. Full version of the game will cover an additional 9 months.
Known issues:
* "After-exam" sexy scenes for story mode are in development