Staff Management: Redefining Wages
---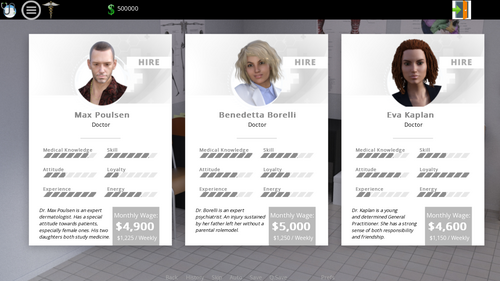 General Practitioner is an alpha-stage videogame. That means that many features are going to be cut off from the final release while also will be improved or completely rewritten, even if having reached 0.0.16 release the core of the game will be more or less the one you're seeing.

While introducing the staff management feature I had to rethink about staff wages. I recently made a poll where I asked players how much money they were having after the first three months of gameplay and I saw that many hadn't had very much of it.
So, other than having your staff help you in earning more money, I had to rebalance their wages as well. Maybe the won't be how much a real GP/Technician/Nurse/etc. earns in real life, but it makes the game funny and balanced since more medical items will be added in future updates as well as cars and other items.
While the new wages shouldn't affect your saved game, some of you might need to restart the game (or "skip to the update"), because not every system is the same. Or you could simply play with the old wages if you don't mind.
Wages are calculated based on the overall skills of a character, so the higher you pay them the better they'll work. Always remember though that even a very talented professional with 7 in all skills will make mistakes from time to time.
I hope you'll keep having fun with the game! Please keep supporting its development if you feel like it :)
Be safe and healthy,