0.0.16 "Our clinic, my legacy" announcement
---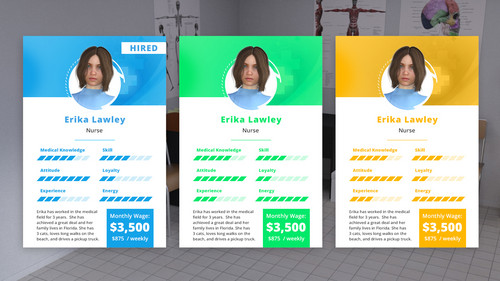 I'm very excited to announce General Practitioner's upcoming update, nicknamed "Our Clinic, my legacy".

The update will feature as follows:
* Join Erika in an investigation about the "message in a bottle" girl's demise and discover unsettling things about your relative's husband
* Three brand new medical exams will be available, bringing the total to 42
* Add a new layer of management to your clinic by hiring new staff members. This feature will be expanded in future updates as well but you'll be able to hire nurses, head of staff, ob/gyn personnel, doctors, technicians and administrative personnel.
Each personnel will have different skills as you can see in the picture above, the monthly wage will be clearly indicated as well as a flavor text describing who you're hiring. The different colors will also indicate the different specialization of each personnel in a very similar way as italian hospitals' personnel are organized.
Each personnel will add perks to the clinic but could also mean trouble as well. Imagine a very loyal staff member who lacks experience, he will never leave the clinic if you miss a monthly payment but he could also do a very bad job meaning that some stats may decrease because of this.
A very expert doctor with low energy could miss some days at work because he overslept his shift and so on...
* New Random exams will be delivered as well, featuring "Teenagers" (this update is a Patron's only one and might be delivered after the update's early release). Please remember that no underage nudity is ever present in the game and never will be.
I will also try to introduce Dr. Poulsen's daughters in this update, but I can't promise that since it's already a very big update as it is!
Release dates:
Early release for 20$+ patrons on July 29th

Mid release for 10$+ patrons on August 7th

Pre release for 5$+ patrons on August 15th

Public release in mid-september

I hope you'll enjoy the game as it's growing more and more with each update!
Be safe and healthy, thank you for your support!