New Medical Guidelines Codex
---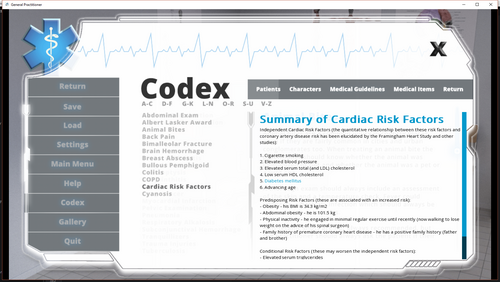 Today I'm going to introduce you the new Medical Guidelines Codex, completely overhauled. You can now choose from the list of ailments and medical informations sorted by alphabetical order.

The font we used is fairly more readable now and infos are organized with a better look as well.
When there are too many infos or pictures are present a scrollbar will allow you to read through the whole content either by using the wheel of the mouse or by scrolling down with your finger on mobile devices or by left-clicking and dragging the screen down.
Below you can see one of the oldest entries for the codex. I believe this is a big step forward, don't you agree? :)
Since the whole Codex is being overhauled (not only the Medical Infos) other Codex Entries will be unavailable until all screens are ready. This means that you won't be able to access Character infos, Medical Items and Patients infos for a few days, sorry for any trouble this might cause, but sasquatchii and I are working to improve all aspects of the game's user interface :)
I hope you'll enjoy the new Codex Entries, the will increase over time making it a little medical Wiki at your disposal from within the game.
This new version will be released in a few hours along with the "Sex Patch" announced yesterday.
Be safe and healthy,