Sexy scenes in 0.0.13 update
---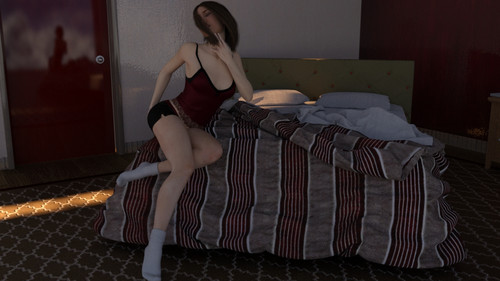 Hi guys. After some work I'm finally about to release the ominous "Sex Patch" to the game for release 0.0.13, which is currently available for 10$+ patrons and will be available soon for 5$+ ones next week.

The patch adds the following:
Added sex scenes with Rita and Erika
- 18 new sex scenes are available for Rita
- 23 new sex scenes are available for Erika
- 30 new different conversation lines are available for both girls while having sex
- 50 new sexual descriptions are available when having sex
- You can randomly access Rita's sex scenes while living with her and choosing "Relax" when staying home
- Some scripted conversations will have you have sex with her too
- At night if one of the girls is your girlfriend you have a random chance to have sex with them.
- This content is available in "STORY MODE" only
Of course more patches will involve other romance options too.
Many of you are also asking me about M/M content. It is available in the game in the person of Aaron (and another still-to-be-introduced character too) and the game will feature M/M sexy scenes too. Aaron's update is due in June, according to the game's roadmap.
Thank you for following the game, please send me any suggestions you might have. The patch releases tomorrow for Patrons and for free next month with 0.0.13 update.
Be safe and healthy,
Files
General Practitioner 0.0.16 LINUX
1 GB
General Practitioner 0.0.16 ANDROID
1 GB