Random Exams Gameplay to be released tomorrow
---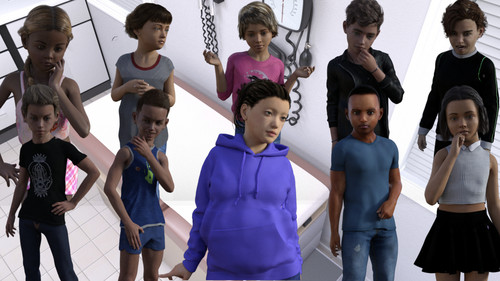 Tomorrow Random Exams gameplay will be launched alongside 0.0.12 pre-release for 5$+ patrons.

This update will be fully compatible with 0.0.12 save games and with 0.0.11's public release ones.
- 32 different random medical examinations have been added to the game
- 10 different random patients have been added to the game: 5 male children and 5 female children
- 132 new pictures have been added for this specific game mechanic
- To perform a random exam choose the appropriate option in "Exam Mode" or visit the clinic when no "Scripted Patient" is available. If the randomization results in a child aged 6-11 the option to play the exam will appear
- You can skip the random examination without penalties at any time
- Achievements will be added when you reached certain milestones with random exams
Please note that this feature is "an alpha within an alpha". Many examinations at the same time mean that something could be wrong, bugged or worse.
Randomizing so many informations could lead to unexpected and untested abnormal behaviors (i.e. a male name on a female patient). It is of the outmost importance that you tell me about those, because without a bug report I won't be able to fix the game properly.
Since the game could be very different and given the impact of these changes, I will also release a "Non-REP" pre-release as well. This means that if you don't want to test this feature, or find game-breaking bugs (it's very unlikely, but not impossible) or you're getting tired for every reason, you can download a "normal" 0.0.12 as you see fit.
Please remember that this is just the first batch ("A" version) of the Random Exam Project. It really needs to be polished and improved. Images will be added, as will interactions with the patients. Many new patients of each age group will be added as well of 28 more exams which won't apply to children. It's quite a game within the game, even for its 12000+ lines of coding in ren'py and weeks of development and writing, and so it needs to be considered when talking about bugs.