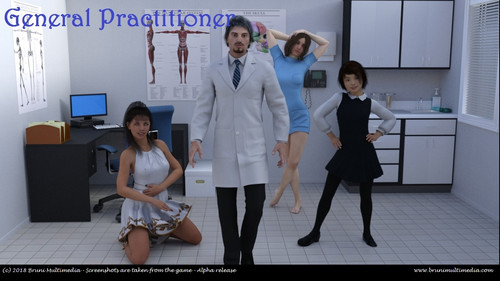 So, General Practitioner is at its 0.0.11 alpha release, you already saw the roadmap to the final release and with this becoming my main job (I hope I can make it last!) it will be faster to achieve results.

Still, what's in store for you?
As for the "grinding process" my game aims to be grind free. It's a visual novel, there's a story to unravel as days pass.
For this to be "grind free" I'm developing the "Random Examination Project", so that each day you go to the clinic you PLAY and not only raise some stat.
When you study I recently introduced a new test mechanic that will make you PLAY when you need to raise your knowledge. And starting from 0.0.10 random events have been placed while attending the gym, so that you PLAY while increasing your stats. Even dating a girlfriend/boyfriend is interactive, which many adult games out there are not, even if they have more sex scenes than mine (for now).
New events will be introduced in future updates, as well as a new User Interface made by the talented sasquatchii and a soundtrack has already been added. (10$+ patrons can download the soundtrack as a reward for their support!)
The "Flirting with patients" feature will add some spice to scripted medical exams and new sexy outcomes.
Many new events, features, gameplay options, maybe even translations if I ever reach that goal will become available for you update after update! I couldn't have made that far without you, the players who took interest in my game and you, the supporters who are making all this possible.
Visit my website www.brunimultimedia.com to stay in touch with releases, more ways to support me and news about the game and its characters!
Be safe and healthy,