Sasquatchii's to draw the game's UI
---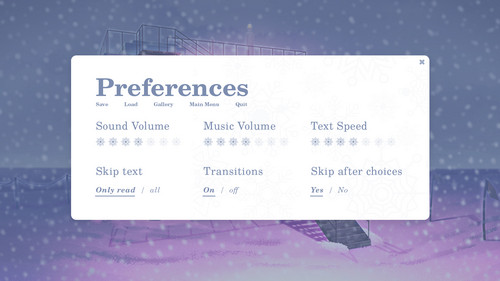 Hey guys!

Big news ahead since I reached an agreement with awesome graphic designer Laura "sasquatchii" Henderson to draw User Interface and screens for the game!
In case you never heard of her take a look at her online portfolio: https://laurahenderson.design
You can also have a look at some sketches she made for games and other projects by following her Twitter: https://twitter.com/Sasquatchiix
I'm very excited about this since it will surely bring fresh air and a beautiful, exclusive look at the whole project!
The new UI will be introduced in the game over the next updates, so expect some changes in between releases as I try to fit both the old one and the new one, until the old one will be completely re-done. Please also be patient with any bugs that may arise, this is a work in progress after all :)
This comes after the OST I just released both in the game and for 10$ patrons yesterday, and it shows a hint of what I'm going to do with this project and the ones that will come!
Expect some big news in the coming months too! So keep following me if you like!
PS: the image above is from another work of sasquatchii, not an actual screen of GP.